Welcome to the on-line version of
Sacred Cacti 4th edition, Part A!
Part A is not yet available as a PDF but that will be changing in the future. Creating this webpage has nicely enhanced the book so those new additions are being incorporated into the PDF-to-come.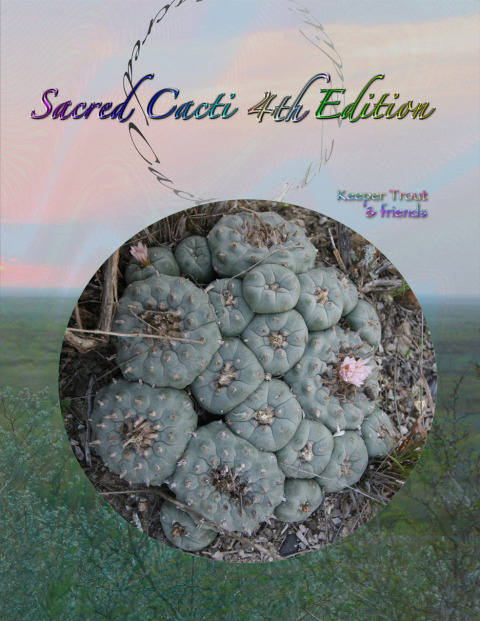 2015 4th Edition
Sacred Cacti Part A:
The Mescaline Containing Species
Table of Contents
        I hope that you enjoy this. Almost all of the basic material has been added. There is one chapter that is still in the process of being completed and both sections of the introductory material (Opening Comments and Chapter 1) need to be brought out of the 1990s and into our modern New World.
I'll post a note whenever those changes occur.

A Few Similarities between the Drug Wars and the Witch Craze (after Szasz)
   (Part of Chapter 1)   [Drug War compared to Witch Craze PDF ]  
Chapter Four the Mescaline Containing Species
"Other" peyote species (pentagona, rapa, texensis, viridescens, etc.)

Chapter Five Mescaline
has become part of The Cactus Alkaloids.
[3 Dec. 2013 PDF 27.7 mb]
Chapter Six Mescaline Pharmacology
has become part of The Cactus Alkaloids.
[3 Dec. 2013 PDF 27.7 mb]
Chapter Seven the Cultivation & Propagation of Cacti
is now a separate booklet. [PDF]
Appendices:
The sections concerning Assays for, Colorimetric reactions of and the Reagents useful for mescaline have all been moved to the mescaline entry within The Cactus Alkaloids.   [3 Dec. 2013 PDF 27.7 mb]  Useful Manipulation Abstracts is also being moved to The Cactus Alkaloids but this has not yet occurred.

      Some of Knize's & Ritter's Trichocereus offerings
      Structural table Isoquinolines in alphabetical order (is part of the preceeding entry.)
Index
Acknowledgements
Thanks for visiting!