Cactus Chemistry By Species has been the most complete and comprehensive summary of published analytical accounts for the cactus species since its first publication in 1996 under the title "Distribution of the Alkaloids & Triterpenoids Reported in Cactaceae; By Species".
This invaluable work has continued to be updated over the years, with periodic releases, and now summarizes the reported occurrences of alkaloids, triterpenoids, saponins, sterols, lipids, waxes, betalains, polysaccharides, mucilage, sugars, volatile components, biominerals and assorted other compounds observed in cacti.
Organized alphabetically by species, Cactus Chemistry By Species also includes synonym listings, a complete reference list and an index for ease of use.
A more recent Activity & Mythology section has been created to discuss the wealth of ethnomedicinal applications and pharmacological studies recorded for the family CACTACEAE and explores the accompanying abundance of errors, urban (or rural) legends and some scientific myths.
The illustrated version is loaded with more than 1500 color photographs and several dozen structural line drawings.
Even those amateur cactus lovers for whom it is truly "more than they need to know" will enjoy the images.
Cactus Chemistry By Species
The most recent illustrated edition
674 pages ~230 Mb PDF

with minor corrections
1 April, 2014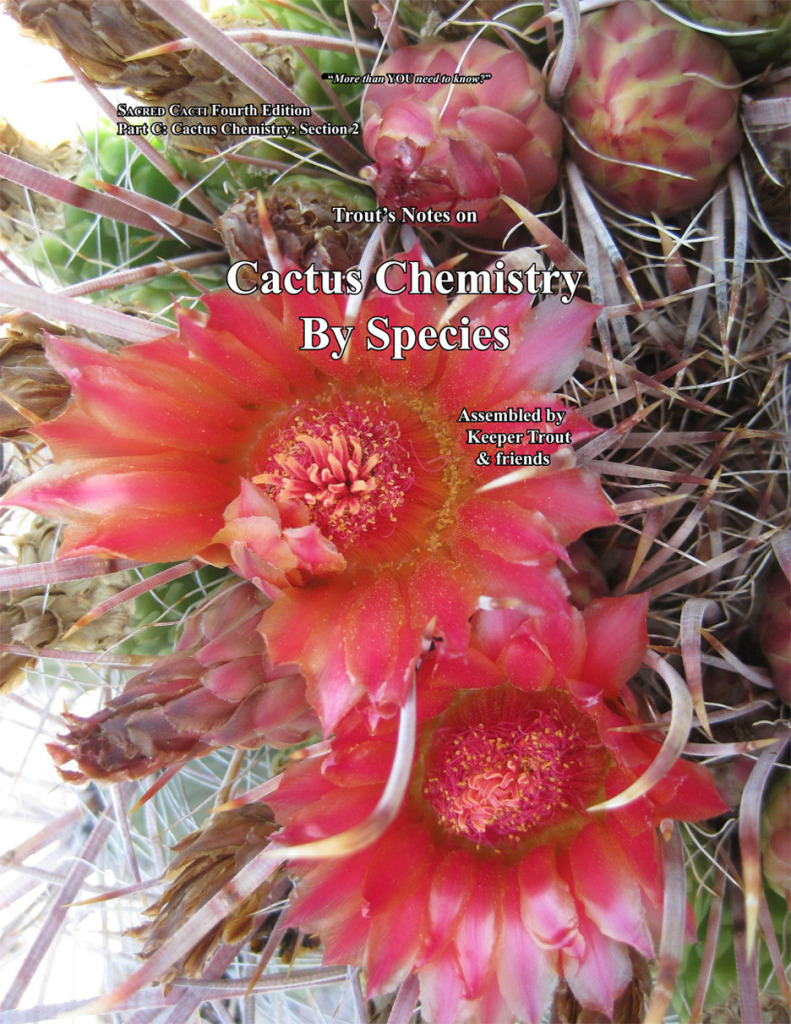 Until such time as I can bring the current version of the actual contents online here, this page will be limited to links to the corresponding PDF files. Both of these PDF files contain the same factual contents but differ in their illustrations.
This is the most current working version of the compendium.
It is now available both with and without the color photographs


Cactus Chemistry By Species Light
(DOI: 10.13140/RG.2.1.4715.8886)
174 pages; 3 Mb
with minor corrections 1 April, 2014

Retains all of the text and structural illustrations in the full version but omits several hundred pages of photographs.
Convenient for research & referencing purposes, or for viewers with slower internet connections.
There is no cost or obligation for downloading either publication but I do welcome donations to help enable more creative projects.
Thank-you for your interest and/or support.
Please view these PDFs as the copyrighted material that they are and don't distribute them — link to us or direct any interested people here instead.
In providing this work, we (Keeper Trout and Accurate Information Media and Trout's Notes) are granting only the permission to explore and utilize its contents. We are not authorizing its reproduction or distribution without the expressed written consent of myself (Trout) on behalf of Accurate Information Media and Trout's Notes. Interested people should be referred here for downloads. Respecting that and not pirating copies is one of the best ways to show your appreciation for the existence of this book.