Until such time as I can bring the current version of the actual contents online here, this page will be limited to a link to the PDF.
Trout's reference classic from 1997
is now available in an
updated and expanded version!
     Cactus Alkaloids 2013 edition details all of the known cactus alkaloids including phenethylamines, isoquinolines and imidazoles.
     In 2013, The Cactus Alkaloids was made complete with the relocation of several chapters that were formerly contained within the pages of the main body of Sacred Cacti: specifically the chapters concerning mescaline, its pharmacology, toxicity, assays and useful reagents. Prior to that date, those entries were part of the main body of Sacred Cacti rather than in The Cactus Alkaloids (where they belong).
384 pages with 80 color photographs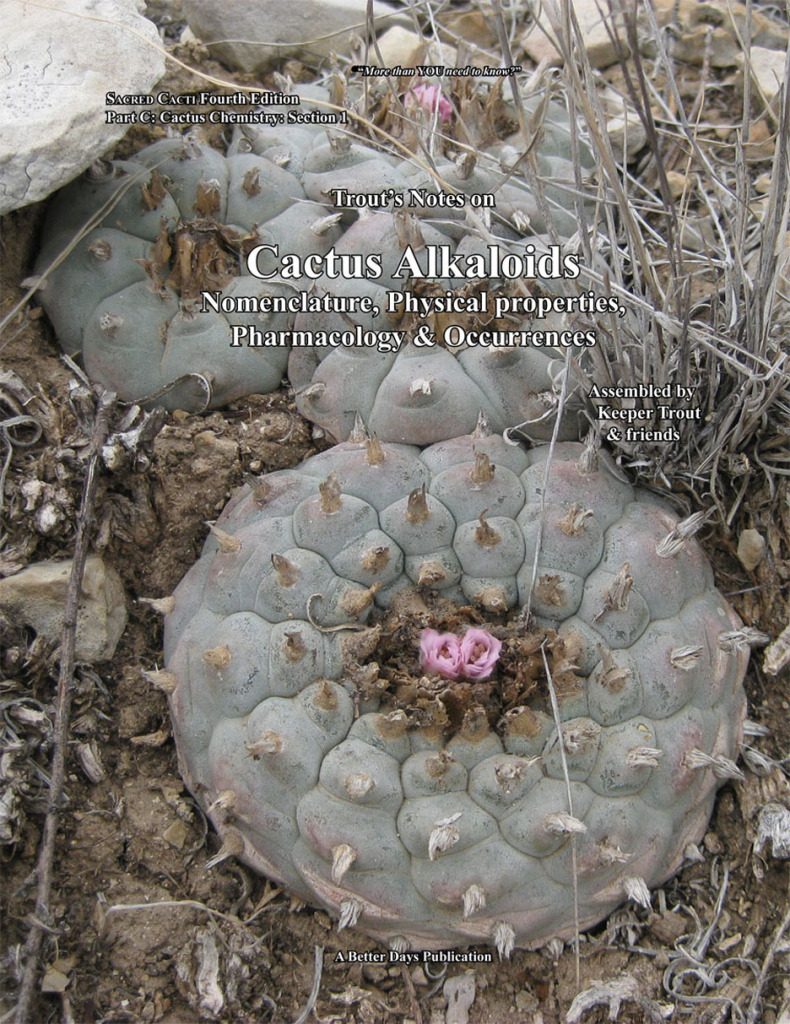 There is no cost or obligation for downloading this publication
but I do welcome donations to help enable more creative projects.
Thank-you for your interest and/or support.
    Please view this PDF as the copyrighted material that it is and don't distribute it — link to us or direct any interested people here instead. 
 In providing this work, we (Keeper Trout and Accurate Information Media and Trout's Notes) are granting only the permission to explore and utilize its contents.  We are not authorizing its reproduction or distribution without the expressed written consent of myself (Trout) on behalf of Accurate Information Media and Trout's Notes. Interested people should be referred here for downloads. Respecting that and not pirating copies is one of the best ways to show your appreciation for the existence of this book.